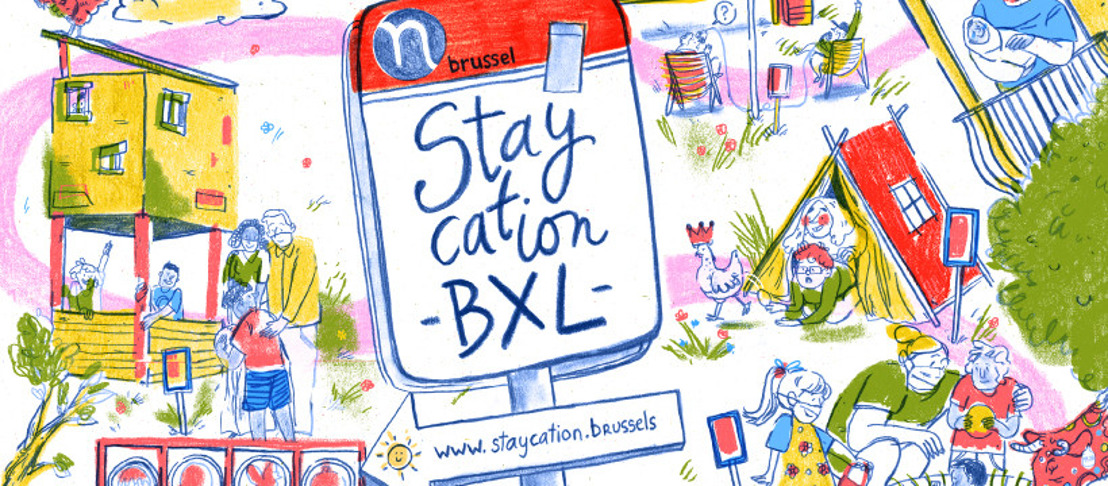 169 projects for a great Brussels summer
"Staycation BXL" and "Brussels on holiday"
Thursday, June 3, 2021 — The project calls "Staycation BXL" and "Brussels on holiday" have been widely welcomed. The Flemish Community Commission VGC has accepted 120 initiatives, good for a wide range of youth, cultural, sports and leisure activities in each Brussels municipality., while Brussels Mobility has selected 49 projects allowing locals and visitors to enjoy the Brussels streets and public spaces.
The health crisis continues to jeopardise the holidays of many Belgians. The Brussels Region and the VGC have therefore invited associations, as they also did in 2020, to propose local and creative initiatives so that the people of Brussels can fully enjoy the public space in their city.
StaycationBXL
The VGC has received 234 project applications. The initiatives had to meet at least one of the following criteria:
Sporting fun: sports and exercise offer
Artistic fun: artistic activities by artists
Digital fun: creative online initiatives to entertain the people of Brussels
Fun and games: initiatives for children and adolescents that encourage play and enjoyment.
120 projects were chosen. They will take place in all municipalities of the Brussels Region. Many initiatives are not limited to a single municipality, but involve several of them. These are youth, cultural, sports and leisure activities that improve the life quality in the neighbourhood. Both organisations and individual Brussels artists or residents have the opportunity to develop their summer project.
Children will be able to explore the city with a horse and donkey on their way to their ideal dream location, while Muntpunt will tour the Brussels parks and public places with a summer playbox. An interactive column will appear in Gare Maritime, an urban jungle will arise in front of BRONKS and, just like last year, you will be able to kayak in the canal. And at the Flow swimming pool in Anderlecht, Zinnema will offer artistic creations, while Cinema Galeries will provide a film programme.
All the information on Staycation BXL can be found on staycation.brussels.
Pascal Smet, VGC college member for Culture, Youth and Sport: "Many citizens are taking actions every day to make their city a better place. That is our city's the true asset. The Staycation BXL initiatives can really make the difference. Often, the locals themselves know what a neighbourhood needs. The past year and a half has made many Brusselers realise that public space in the city is just as much a place to relax, connect with each other, play and exercise. During the staycation, we invest in numerous activities so that Brusselers can (re)discover their city. In addition, we help artists and other initiators to get back to work at a fair wage."
Brussels on holiday
116 projects were submitted to Brussels Mobility. All of them have been evaluated in relation to the objectives of the regional mobility plan Good Move.
More space available to stay (including to play) and connect with each other
More greenery in the city
Greater focus on active modes of transport
49 projects were selected in all Brussels' neighbourhoods: Place Fontainas, Jette station district, Palais de Justice surroundings, Rue Picard, Flagey, Place Saint-Lambert, Aumale/Cureghem, etc.
Elke Van den Brandt, Minister of Mobility and Public Works: "For many Brusselers, traveling is not an option, even in normal times. Many of them do not have a garden or patio, which makes the public space often an extension of their living space. You see it in the parks, on the squares, everywhere: many people spend time in public areas and creating extra space is a matter of urgency. Places to play, to stroll quietly under trees, to learn to ride a bike, to enjoy an ice cream on a bench. On holiday in the city!"
Sofie Walschap, project manager at Brussels Mobility: "At the end of 2020, the VUB has carried out an impact evaluation of last year's "Brussels on holiday" projects on the local population. Its positive results have encouraged us to repeat the edition. We have slightly adapted the call to the needs and wishes of the project leaders".
The projects are intended to be inclusive and participatory. Fabrik vzw: "In 2020, we brought together the residents of the densely populated streets of Saint-Josse to embellish the grass areas around the trees in the neighbourhood. The interactions have been very valuable and this summer we are going to develop a project at the intersection of Rue du Méridien and Chaussée de Haecht, in a neighbourhood that deserves an upgrade."
Other projects involve active modes of transport, such as teaching children to ride a bike, bike repair workshops, etc.
Tom Gijssels of Toestand vzw: "Last year, thanks to the project call, we were able to create the participatory bicycle workshop "Korenbike". Since then, our volunteer has become an essential part of the Korenbeek site in Molenbeek. We make sure that the local teenagers want to ride their bikes. With this new grant we hope to further build and continue the project.
Damiaan De Jonge Woordvoerder, Kabinet Pascal Smet