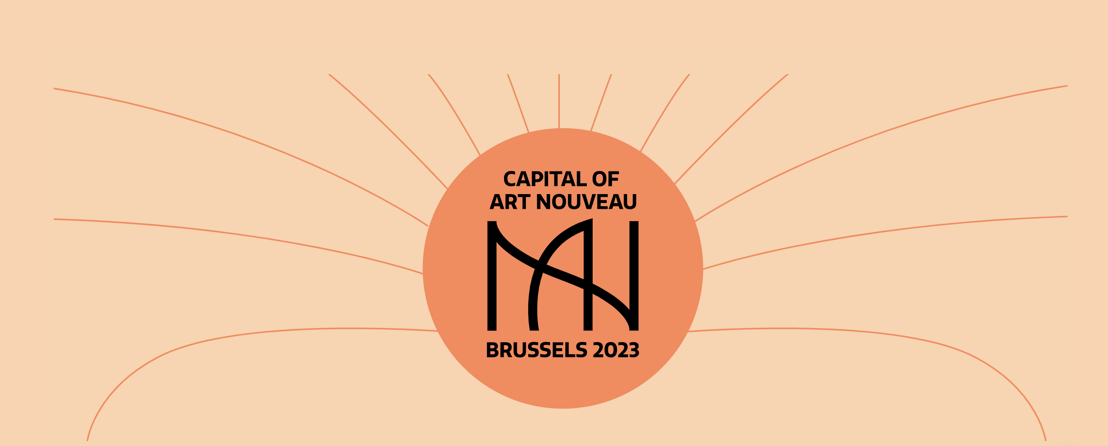 2023 Art Nouveau Year in Brussels
A programme in line with the ambition: Confirming Brussels as Art Nouveau capital
Sunday, December 4, 2022 — In 1893, Hôtel Tassel was inaugurated in Brussels. That iconic structure by Victor Horta was also the first Art Nouveau building. Apart from its architectural and decorative aspects, it was above all an ideological movement denouncing heavy industrialisation. The artists, architects and craftsmen of the time yearned for a return to nature and for quality and durability of objects, as well as beauty as a life ideal.
Brussels has plenty of Art Nouveau buildings, furniture and artworks. The Brussels government will dedicate 2023 to Art Nouveau, when this art movement celebrates its 130th anniversary. For 12 months, urban.brussels, visit.brussels and their partners will organise numerous national and international events. The commissioner of Art Nouveau Year, Paul Dujardin, has been in charge of involving all stakeholders over the past months, which resulted in a rich and varied programme.
"Brussels has more than thousand Art Nouveau buildings and more than 200 of them are protected as historical monuments, both individually and as a whole. This is a great tourist asset. I am very pleased that visit.brussels will be promoting Art Nouveau throughout 2023 both in Belgium and abroad," explained Rudi Vervoort, Minister-President of the Brussels-Capital Region.
"Brussels is the Art Nouveau capital. We are going to highlight that both in the coming months and in the long term. Next year, many events will be organised and many buildings will open to the public. As many people as possible should have the opportunity to visit these monuments. The Brusselers have every right to be proud of their heritage. I am happy to present this rich programme. It will cover the whole of 2023. A year in which Brussels will also host prestigious congresses such as ISOCARP and the Brussels Urban Summit," explained Brussels State Secretary for Urbanism and Heritage Pascal Smet.
"All over the world, cities are a source of renewal and innovation. For example, the origins of Art Nouveau and Art Deco can be found in Brussels, where you can admire beautiful examples of these art movements everywhere. This is why the Art Nouveau strategy we are developing is so important for the image of Brussels," concludes the minister of the Brussels-Capital Region responsible for the Image of Brussels.
"Thanks to its extensive programme, Art Nouveau Year will enhance the Brussels-Capital Region's fin-de-siècle heritage. Exhibitions, guided tours, conferences, etc. will highlight various aspects of this art and architectural movement and create lasting synergies between Brussels, Belgian and foreign stakeholders. The many projects will also highlight urban.brussels' daily efforts to preserve, upgrade and raise awareness among everyone," explained Bety Waknine, general director of urban.brussels.
"The programme also looks beyond 2023. Indeed, the project will develop long-term common and transversal opportunities for all sectors and stakeholders. The intention is to go beyond the classic Art Nouveau approach. Therefore, the programme will highlight specific themes, call for debate and explore recent themes, such as contemporary social issues (sustainability, inclusion, innovation, etc.)," explained Paul Dujardin, the commissioner of Art Nouveau Year.
A rich, accessible and inclusive programme has been developed. It will highlight important heritage elements through a renewed and amplified museum offer, numerous large-scale exhibitions, festive events, guided tours, conferences, publications and international partnerships.
Visit.brussels and urban.brussels are jointly organising Art Nouveau Year, under the coordination of Paul Dujardin.
The Brussels cultural partners will take a lot of structural initiatives in 2023, focusing on Brussels' dynamism and creativity as Art Nouveau capital. For example, buildings will be opened to the public and there will be site visits, temporary exhibitions, conferences, publications, revaluations of art professions and city tours. Initiatives for greater inclusiveness and accessibility will receive special attention. The aim is to reach a local, national and international target audience as wide and diverse as possible.
Art Nouveau Year also aims to question the obviousness of the work of world-renowned architect Victor Horta, particularly through the exhibitions "Victor Horta and the Grammar of Art Nouveau" in BOZAR and "Victor Horta versus Art Nouveau. Horta's vocabulary" at the Horta Museum. An interactive "phygital experience" - combining physical with digital experiences - on the facade stones of Hôtel Aubecq will also take place.
At the Art & History Museum, an exhibition will be dedicated to the iconic Stoclet Palace of Viennese architect Joseph Hofman. A 3D digital representation of some of its rooms will not only enliven them, but also boost research into this UNESCO World Heritage Site.
With artnouveau2023.brussels, a dedicated website was developed that, among other things, attractively bundles the full programme and cultural offer of 2023.
A renewed and amplified museum offering
A new museum: Hôtel Hannon
The long-closed Hôtel Hannon will reopen its doors in 2023. Architect Jules Brunfaut designed this Art Nouveau townhouse commissioned by engineer Édouard Hannon. Its architecture, furniture and decoration are impressive. Brunfaut drew his inspiration for the interior from French Art Nouveau. In cooperation with several national and international institutions, including the Musée des Arts décoratifs of Paris and the Musée de l'École of Nancy, the original interior was partially restored. At Hôtel Hannon, visitors will be able to discover the living quarters of the colourful Édouard Hannon. On the first floor, an exhibition on Belgian Art Nouveau (Hankar, Serrurier-Bovy and van de Velde) can be admired for several months.
A new Art Nouveau circuit at the Art & History Museum
After having reconstructed the Wolfers gold- and silversmithery designed by Horta, the Art & History Museum is continuing this dynamic by dedicating two new rooms to the 19th and 20th centuries and presenting a brand new Art Nouveau circuit starting in autumn 2023. They will feature exceptional works, such as the famous winter garden Horta designed for Jean Cousin.
An Art Nouveau interpretation centre in the Van Eetvelde office
Edmond Van Eetvelde, general administrator of the Congo Free State, commissioned Victor Horta in the late 19th century to design Hôtel Van Eetvelde. This exceptional UNESCO World Heritage Site is divided into two parts. The Brussels-Capital Region recently bought the left part to install an Art Nouveau interpretation centre, a dialogue space with contemporary creations and a space for research and debate. Among other things, it will question the links with the Belgian colony.
Hôtel Van Eetvelde has a perfect strategic location to suit as the Art Nouveau Year information point. It will be open several days a week and will also host conferences and workshops, among other things. In addition, the public will also be able to visit the left part of the building, where an exhibition on the key moments of this art movement and its links to colonisation will offer them more insight in Art Nouveau.
Major festive events
Major regional events such as the Iris Festival (May 2023) and the Bright Brussels light festival (from 16 to 19 February 2023) will exceptionally highlight Art Nouveau. Participants of Lab XR4Heritage will artistically illuminate three exceptional Art Nouveau sites during Bright Brussels: the Musical Instruments Museum (Old England), the Cinquantenaire Park Art & History Museum and the school group Josaphat No 1 in Schaerbeek. In the Sablon, the Horta Museum, the ULB and the AlIce laboratory will bring Maison du Peuple back to life. This Victor Horta masterpiece was demolished in 1965.
The Heritage Days (16 and 17 September) and the Brussels Art Nouveau & Art Deco Festival "BANAD" (from 11 to 26 March) will organise their programme in such a way that as many people as possible will be able to discover little-known and hidden Art Nouveau masterpieces.
Several other events will highlight Art Nouveau. These include the BRAFA Art Fair (January 2023), Spring at the Cemeteries, organised by the city of Brussels (May 2023) and Festival Artonov (October 2023).
Iconic buildings and collections to admire all year round
Apart from many buildings and collections that will be open at specific times, there will be a dozen that you can visit all year round.
These include seven Victor Horta masterpieces, three of which are on the UNESCO World Heritage List: the Horta Museum, with the architect's former studio and residence; the Solvay House, for which an unlimited budget allowed the architect to use all his creativity; Hôtel Van Eetvelde (new!); the Autrique House, home to the foundations of Art Nouveau in a scenography by François Schuiten and Benoit Peeters; the Waucquez department stores, former textile shops that now house the Comics Art Museum; the Temple of Human Passions and the Wolfers Frères gold- and silversmithery, accessible thanks to the Art & History Museum in the Cinquantenaire Park.
Visitors will also be able to admire exceptional architecture and collections at two other museums: the Musical Instrument Museum, since 2000 in the Old England department store, a splendid building by Paul Saintenoy with an almost entirely metal facade; the Fin-de-Siècle Museum, designed to house the extraordinary Gillion Crowet collection and with remarkable French and Belgian Art Nouveau collections.
Finally, you can discover the daily life of artists and collectors of the time in two museum houses: the Cauchie House, designed by and for Paul and Lina Cauchie; Hôtel Hannon (new!).
An exhibition at Bozar and many temporary exhibitions for new insight on Art Nouveau
In addition to the buildings and museums that are always dedicated to Art Nouveau, several partners will approach the theme from various angles in 2023. They will highlight their collections and offer an original reading of them during temporary exhibitions:
Brussels City Museum ((The King's House): "Back to Nature 1900" (from February to October 2023)
Horta Museum: "Victor Horta versus Art nouveau. Horta's vocabulary" (from March to December 2023)
CIVA: "The Unmade Pavilion" (provisional title) (from March to September 2023)
Autrique House: "Privat Livemont FLOWER POWER" (from March 2023 to January 2024)
BELvue Museum and King Baudouin Foundation: "Art Nouveau. Masters from here" (provisional title) (from May to October 2023)
Belgian Comic Strip Center: "Bande dessinée et Art nouveau" (Comic strip and Art Nouveau) (from September 2023 to January 2024)
MAD: "Jaime Hayon" (from September 2023 to January 2024)
BOZAR: "Victor Horta and the Grammar of Art nouveau" (from October 2023 to January 2024) Art & History Museum Cinquantenaire: "Josef Hoffmann: Beauty, Modernity and Ideals" in partnership with the Museum of Applied Arts of Vienna (from October 2023 to April 2024)
De l'Art nouveau à la Mode (From Art Nouveau to Fashion) of the Fashion & Lace Museum @ Hortamuseum (from November 2023 to January 2024)
Train World: "Horta, Van de Velde & Friends – Le train des créateurs" (from December 2023 to October 2024)
Finally, the annual programme of the iconic Halles Saint-Géry will focus entirely on Art Nouveau. Many activities with different themes will take place, such as Art Nouveau-inspired cooking. Several exhibitions on various Art Nouveau aspects will also be organised: "L'Art nouveau s'affiche !" (from January to April 2023) ; "Les jardins, un outil au temps de l'Art Nouveau. Architecture & Nature" and "Arabesque, quand le cirque contemporain interprète l'Art Nouveau" (from May to August 2023), "Vivre un bâtiment Art nouveau" and a joint photo exhibition (Urban Zoom) on the Brusselers' favourite Art Nouveau heritage.
Other exhibition venues are also taking part in Art Nouveau Year, by lending artworks from their collections. These include the Royal Library, Design Museum Gent, Musée d'Ixelles, etc.