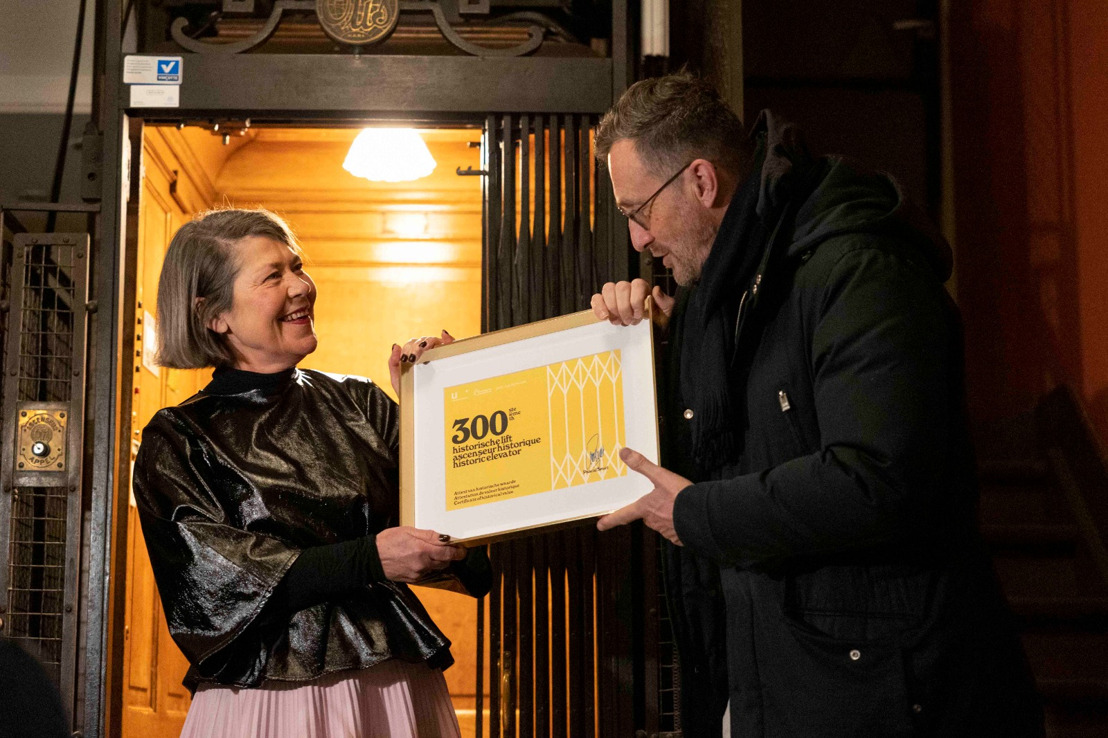 Already 300 historic lifts saved!
Pascal Smet grants 300th certificate for historic lifts.
Friday, February 10, 2023 — The facades of many old Brussels buildings hide many beautiful historic lifts. For a long time, it was feared that this heritage would disappear. Indeed, the mandatory modernisation of all Belgian lifts would have irrevocably damaged their historical, aesthetic and technical properties. This caused great concern among heritage lovers and (co-)owners of these historic lifts
However, Pascal Smet addressed the issue with great determination. He found an ally in Pierre-Yves Dermagne.
In 2020, Brussels State Secretary for Urbanism and Heritage Pascal Smet commissioned urban.brussels and Homegrade.brussels to compile an inventory of Brussels lifts with heritage value. This was carried out in close cooperation with the non-profit association Save Our Elevators, which has been advocating the preservation of these lifts.
In parallel, new federal regulations were being prepared. To this end, Pierre-Yves Dermagne and Pascal Smet came to an agreement last year with the political leaders of the other regions and the competent administrations.
The amended royal decree will include a new category of "historic lifts". Owners with a certificate have until the end of 2027 to adapt their historic lift to a new specific standard for these lifts.
In Brussels, there are now already 300 historical lifts with certificate.
"300 and counting! I am obviously so proud that we have saved Brussels' historic lifts and I would like to thank everyone who contributed to this. This is a gift from us to all future generations of Brusselers. That we can achieve this during the Brussels Art Nouveau Year makes it even better," said Brussels State Secretary for Urbanism and Heritage Pascal Smet.
Brussels' 300th official historic lift is located in a stately building on Rue d'Anderlecht, in the city centre.
The inventory is publicly available on this website.
Finally, State Secretary Smet also calls on anyone who (co-)owns a historic lift or knows of a historic lift not yet included in the inventory to contact the Brussels Region using this online form.
Historic Brussels elevators can survive!
Brussels Secretary of State Pascal Smet and Minister Pierre-Yves Dermagne join forces to secure the future of many beautiful historic elevators
pascalsmet.prezly.com
Damiaan De Jonge Woordvoerder, Kabinet Pascal Smet