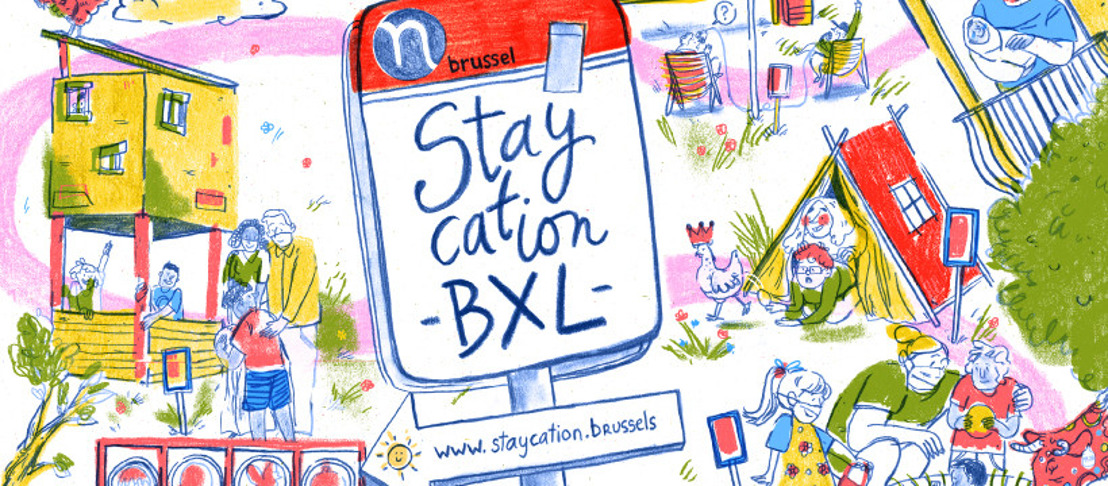 Also this year: unforgettable summer activities by and for Brusselers
VGC and Brussels Region launch project calls "Staycation BXL" and "Holidays in Brussels"
Tuesday, March 30, 2021 — This year as well, many Brusselers will be spending alternative summer holidays due to the ongoing health crisis and the measures against corona. After the overwhelming success during the summer of 2020, the Flemish Community Commission "VGC" and the Brussels Region are launching a new call for Brusselers to organise summer activities in their neighbourhood. Citizens with bright ideas to transform the public space into a lovely, convivial place or to develop alternative leisure activities, can register for one of the two project calls.
VGC invites organisations and Brussels citizens to develop an adapted and extensive leisure offer for Brusselers in a staycation. Anyone with an idea for an unforgettable summer can receive support of up to 5.000 euros for organising youth, culture, sports and leisure activities. This call pays special attention to (projects focusing on) children, young people, seniors and Brusselers in a vulnerable situation and aims to help our artists get back to work and to make cultural life flourish again.
The VGC college provides 280.000 euros to support these initiatives. All Brussels residents, organisations, associations and citizens' initiatives can submit their ideas before 5 May 2021. The activities have to take place between 1 July and 31 August 2021, in the neighbourhoods throughout the Brussels-Capital Region, be accessible to the public and comply with the safety measures.
"It is in our nature to make plans, but unfortunately it is in the virus' nature to obstruct them. With Staycation, we want to make the Brusselers look forward to a summer with fewer worries, says VGC college member for Culture, Youth and Sport Pascal Smet. "Let us look together for creative ways to connect with each other and to rediscover our own neighbourhood. The Brusselers know best what their own neighbourhood needs, so we really look forward to your many activities for a wonderful summer in our city!"
The Brussels Region is again using the project call "Holidays in Brussels", which focuses on a creative use of the public space. This use has to meet the Region's priorities in terms of mobility and public space. More participation and space to engage with each other, greener streets and squares, safe play areas for children and active means of transport are the major focal points. The Region provides a total amount of 400.000 euros for the financing of such projects, with a maximum support of 15.000 euros for each of them.
"We want to give the public space back to the people of Brussels. Many of them will spend their summer holidays again in their own city and mass events such as Brussels Beach will probably be cancelled. That is why we go for small-scale projects, with very accessible activities in which engaging with each other and leisure are central. Last year, we already saw the effect of such projects: they give a glimpse of a liveable, resilient and attractive city for young and old," says Minister of Mobility and Public Works Elke Van den Brandt.
The selected projects will be grouped on the visit.brussels website in order to give the Brusselers an overview of the activities throughout the city. Perspective.brussels will provide several locations where the different activities can take place, for organisations who need it.
"Summer is approaching fast, but it is not yet certain whether recreational or cultural events can take place in the capital. More than ever, it is important to give our citizens a perspective. Brussels public spaces offer many opportunities and places that we have to use more than ever because of the current situation. Thanks to this project call, cultural, sports and leisure activities can be organised in quality locations in all neighbourhoods, in which everyone can participate safely and with the required physical distance. During the summer, both the Brussels inhabitants and its visitors will have the opportunity to enjoy an open, dynamic and hospitable city," says Minister-President Rudi Vervoort.
Damiaan De Jonge Woordvoerder, Kabinet Pascal Smet