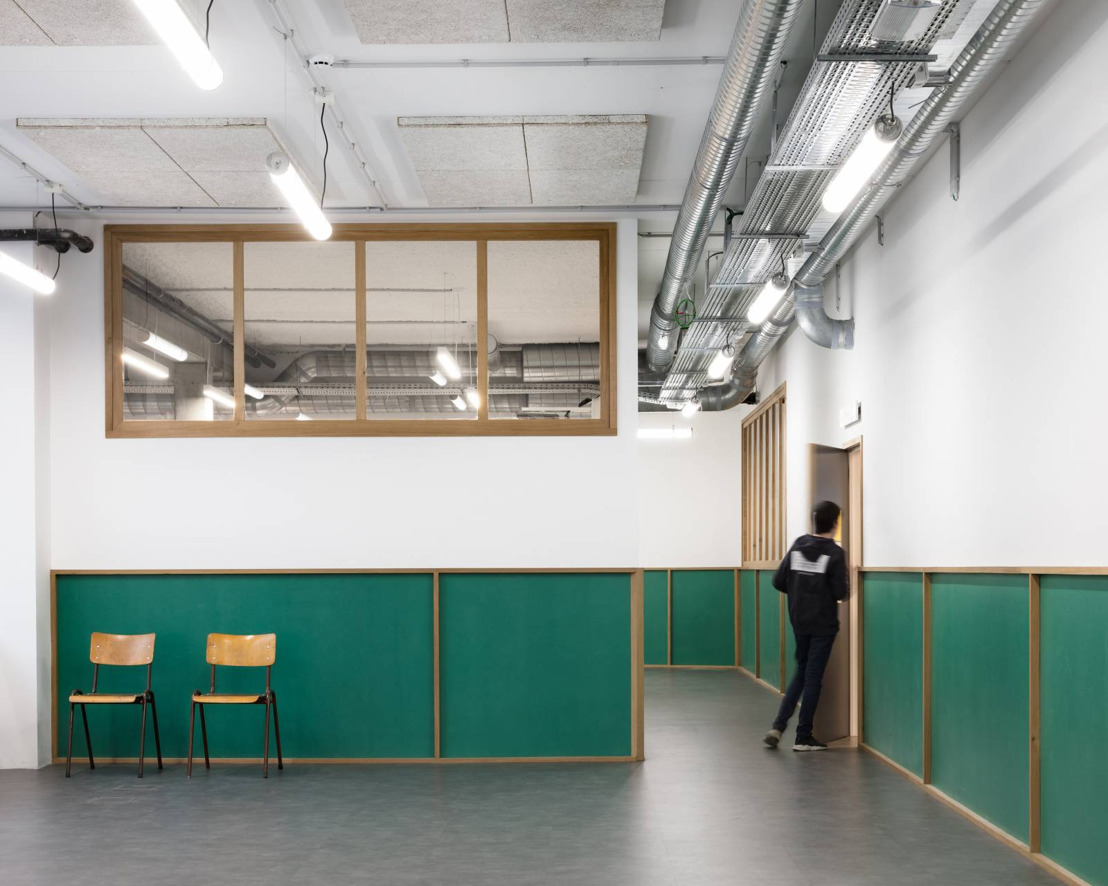 Archiweek 2020: fundamental acts
the post-corona city that goes beyond productivity
Monday, October 5, 2020 — Since 2019, urban.brussels has been organising Archiweek in the Brussels-Capital Region every year. The aim of this event is to introduce the general public to contemporary architecture in Brussels. This second edition will take place from 5 to 13 October 2020. The programme includes guided tours, walks, bike rides, open door days of architectural firms, symposiums, workshops for all ages and conferences. These activities will be organised by urban.brussels and its partners.
The highlight of Archiweek is the guided visits to some twenty contemporary creations during the weekend of 10 and 11 October. The multilingual guided tours (NL, FR and EN) are organised by the non-profit association Arkadia.

During this weekend, several Brussels architectural firms will also open their doors to the general public to show their office and activities to visitors.

Two days of "sustainable architecture" are also scheduled. These will be organised in collaboration with Archi Urbain. Participants will then be able to visit sustainable projects and construction sites.
"Brussels has the potential to become a worldwide player in the field of architecture. Both in terms of achievements in Brussels and in terms of the strong architectural firms that our city is rich in. We have to be proud of that and we have to show it more internationally.
One of the ways we are doing this is by organising 'Archiweek', in which we put the spotlight on the contemporary architectural landscape of Brussels. Covid-19 doesn't make it easy for us this year, but still we think it's important to let 'Archiweek' take place, albeit in an adapted, safe version. During this week, the general public can become acquainted with Brussels' modern architecture and professionals can further inspire each other," says Pascal Smet, Brussels State Secretary for Urbanism.

"The 2020 edition of Archiweek is an opportunity to explore architectural projects and achievements that go beyond productivity. Inspiration can be drawn from the fundamental elements of life to build the city of tomorrow. A sustainable metropolis, on a human scale, inclusive, exceptional, modern, dynamic and based on solidarity. A city that can offer quality of life to all its inhabitants," Bety Waknine, CEO urban.brussels.

The theme: fundamental acts
Archiweek 2020 explores our fundamental actions (Life, Education, Ceremony, Love and Death) by looking for architectural sites in Brussels dedicated to these actions. This theme is inspired by Superstudio's radical proposal, made in 1972-1973, to bring the great themes of life back into architecture.

Through thematic visits, Archiweek aims to open up contemporary places dedicated to these fundamental actions. The aim is to discover these places and to give free rein to the imagination.
This moment in history can be used to discover other forms of life (together) and not return to the "normal" of the purely productive city in the post-pandemic city, where the focus is only on making processes and spatial planning more efficient, which needs to be optimised for productivity.
Let us take this moment to reflect on basic rituals and human needs in order to imagine a city that goes beyond the purely functional.
The Commissioners
FUNDAMENTAL ACTS is curated by a collective formed by the Brussels-based militant group in architecture Traumnovelle, architectural design lab humbble and media theorist and researcher Katía Truijen.
Architectural sites open to the public
Life
At the beginning of the 20th century, architects and urban planners were advocates of separate functions. As a result, cities were divided into monofunctional neighbourhoods and structured by the existing transport infrastructure. The CBR building is a typical office building from that period. It was recently transformed into a space in which workplaces merge into a predominantly homely atmosphere. After all, spaces are increasingly being used for overlapping and hybrid purposes. The conversion of former mono-functional buildings gives enormous impulses to hybridisation, which creates poetic incompatibilities between the space and the interpretation. Think, for example, of the P.NT2 factory building, which housed creative businesses, commercial businesses and private families. La Serre is a community project in a covered car park, where space was created for creativity and collective social innovations. It is an interesting example of bottom-up appropriation and adaptation of unused spaces. Brutopia, on the other hand, is the only new housing project in this category: a collective housing project initiated by the owners themselves. There is room for individual adaptability and strong collectivity.

Education
Throughout history, educational institutions have had many similarities with other normative institutions, such as prisons, as the philosopher Michel Foucault pointed out. Keeping body and mind in check with architectural elements reminiscent of prisons created a disciplined society. The Ecole Maritime opposes this with an inverted panopticon, in which (in)formal study areas look out on generous communal areas. Learning can also take place in other forms and other spatial layouts that promote curiosity and a horizontal dialogue. In school and nursery Regenboog a cramped urban element has been re-organised, resulting in more inviting play areas that stimulate curiosity and stimulate interaction through design. Some spaces are able to address global issues through innovations, while at the same time addressing local issues together with a local community. iMAL is such an interactive environment full of experimental tools and applications, creating space for collective exchange. Learning is a lifelong process that takes place not only in pre-defined spaces. A good example is Actiris: a collective, horizontal workplace where barriers are blurred and users are invited to come up with innovative destinations for the space.
Ceremony
The moments we celebrate together ensure cohesion and inclusive social groups. They are the backbone of our collective identity and can play an important role in the way we deal with the most important moments in our lives. They are the actions that bring us together and allow a number of individuals to grow into a group. Ceremonies, however, need not imply that obsolete actions of centuries-old institutions (such as the state, religion and patriarchy) are blindly followed. Recyclart is a space for collective celebrations around music, art and culture. The atmosphere and set-up there is much freer than in an institution such as a museum, with an extremely flexible and non-pretentious spatial structure. Rasquinet Park, on the site of a factory where bicycle pedals used to be made, is a haven for the residents of a densely populated neighbourhood who need moments of dialogue, being together and living together. Porte de Ninove: people can come together in that park as well. If it rains too much, the water can also penetrate into the ground there, thus avoiding the risk of flooding for the entire neighbourhood. This way, tackling the climate crisis becomes a collective survival ritual. The Open Production Hall of BC MATERIALS offers both new forms of rituals (as a framework for the ballet of building materials that reach Brussels via the canal) and a radical space for old rituals.
Love
While healthcare provision is becoming increasingly medical and mutual solidarity is constantly being undermined by political and economic circumstances, the ways in which we stand up for each other and 'are' there for each other have far-reaching consequences for social cohesion, our health and our happiness. In the 12th century, Beguines initially formed an independent and inclusive religious community in the Brussels Beguinage. Since then, their care tradition has penetrated the urban fabric through the Pacheco rest and care home, social housing and childcare facilities. At the Nieuwkinderland day care centre, a sculptural inclined plane at the entrance invites people of all ages and with a variety of opportunities to meet each other. This shows how architecture can unite people with different needs. Tri Postal, an empty postal sorting centre, has been transformed into a social and cultural experiment. It takes care of the neighbourhood, even outside the walls: associations offer a wide range of services to local residents: from the homeless who sleep in the neighbouring streets to the young people in Saint-Gilles. The urban agriculture project La Ferme du Chant des Cailles offers ideas for a more ecological and participatory future in the city. At the same time, it raises the issue of territorial zoning in a densely populated city with a severe housing shortage. These temporary projects allow us to think about possible future scenarios and the way we want to live together. Not only with other people, but also with other city inhabitants such as animals and plants.
Death
Death is increasingly obscured and the fact that we do not see it makes it increasingly difficult for us to cope with the mourning process. The Brussels cemetery in the suburbs of the city has a park-like feel to it. It makes us think about the lack of contemporary mourning spaces. The collective confrontation of pain through loss helps to construct our common myths and memories. The 22/3 commemorative monument in the Forêt de Soignes creates space to mourn a collective loss in a soothing, circular environment. However, death can also give rise to rebirth. The Philips Tower, which was built in 1969 as the company headquarters, is currently being carefully dismantled and stripped. Before the transformation, all reusable materials are removed so that this legacy can continue to live on. Ongoing projects at the Anderlecht abattoir (which for a long time was largely responsible for meat supplies in Brussels) are considering how the memory of death can be kept alive. At the same time, new users and projects are welcome.
Open by archiweekend
New for this second edition of the Archiweek are the Brussels offices that open their doors to the public.
During the weekend of 10 and 11 October, some ten Brussels offices will present their work. The participating offices: 51n4E, Agmen, Philippe Samyn and Partners, Claisse Architectures, Czvek Rigby, AC Plus architecture, Notan Office...
"sustainable architecture" days
Archiweek is also an opportunity to discover sustainable architectural projects of different varieties, both construction sites and completed projects. Four projects will be presented by their architects, their owners or the contractors/professionals involved in their implementation.
→ Victoriatower (51N4A) - private project: renovation of the tower of the former Belgian headquarters of IBM.
→ Grande Halle de Schaerbeek (AM/VM Zampone - L'escaut) - public project carried out under the Petite Senne neighbourhood contract (2014 - 2018) and winner of the be.exemplary award 2018: construction, along the canal, of a new 1,642 m2 French-speaking crèche for 72 children.
→ Jaspar (Guillaume Sokal) - private project, winner of the be.exemplary award 2018: conversion of a maid's room into a 3-room flat in Saint-Gilles.
→ 1718 Verbies (agwA) - private project: conversion of a warehouse into a single-family house and art studio.
Programme of urban.brussels and its partners
On Tuesday October 6 , the curators of Archiweek will reflect on the architectural creation of recent years in Brussels during the final debate of the interview series "Brussels Architecture Today", organised by City Tools.
On the same day, you can attend the dance and music performance 'Come on Feet' in U Square as part of the ARTONOV festival.

ICA, CIVA, Vai and all speakers at the "Desired Spaces" will let you dream about future (public) spaces with debates/conversations on Wednesday October 7.

On Thursday October 8 , you can attend the Architecture Prize of the Faculty of Architecture La Cambre Horta (ULB) and participate in the back-to-school conference with Kersten Geers (Office).
During the weekend of 10 and 11 October, you can discover the 20 architectural locations selected by the Archiweek commissioners.

In the same weekend you can walk into the architectural offices that open their doors especially for Archiweek to present their best work.

On Saturday 10, you can also take a walk around the productive city of Brussels Academy and attend the launch event of the new A+ magazine. Issue 284 of the magazine is dedicated to "Belgium : The Next Generation!

With Pro Vélo, on Saturday 10 and Sunday 11 October, you will be able to visit about ten architectural sites selected by the commissioners.
You can also take part in the workshops for families around Superstudio, organised by the CIVA in collaboration with JAP.

On Saturday October 10 , you will be welcome at the former royal ice skating rink as part of the Brussels Neoclassical Biennale. And on Sunday October 11 you can watch the performance Stretch + Timemonochromes, specially developed for the COOP building. Afterwards, you can take part in the children's workshop on artistic expression as part of the ARTONOV festival.

On 12 and 13 October, you will be able to learn about sustainable exemplary projects. The urban.brussels and Mister Emma of Archi Urbain will take you on a voyage of discovery through inspiring examples. Architects, owners and/or contractors will present their sustainable projects or sites.
And finally, throughout Archiweek, you can (re)discover the history of design in Belgium with the permanent exhibition "Belgian Design Belge" presented at the ADAM - Brussels Design Museum.
Participation in the activities is free of charge (except for the activities organised in the framework of the Artonov festival and the BBN, as well as the exhibition "Belgian Design Belge" in the Design Museum Brussels).
Practical information
The full programme of Archiweek 2020 is available in French, Dutch and English on the website archiweek.urban.brussels.
In view of the health crisis and in order to ensure that Archiweek can take place in the best conditions and in complete safety, visits to the sites and the various activities will only take place by reservation.
Reine Nkiambote Spokesperson, Kabinet Pascal Smet