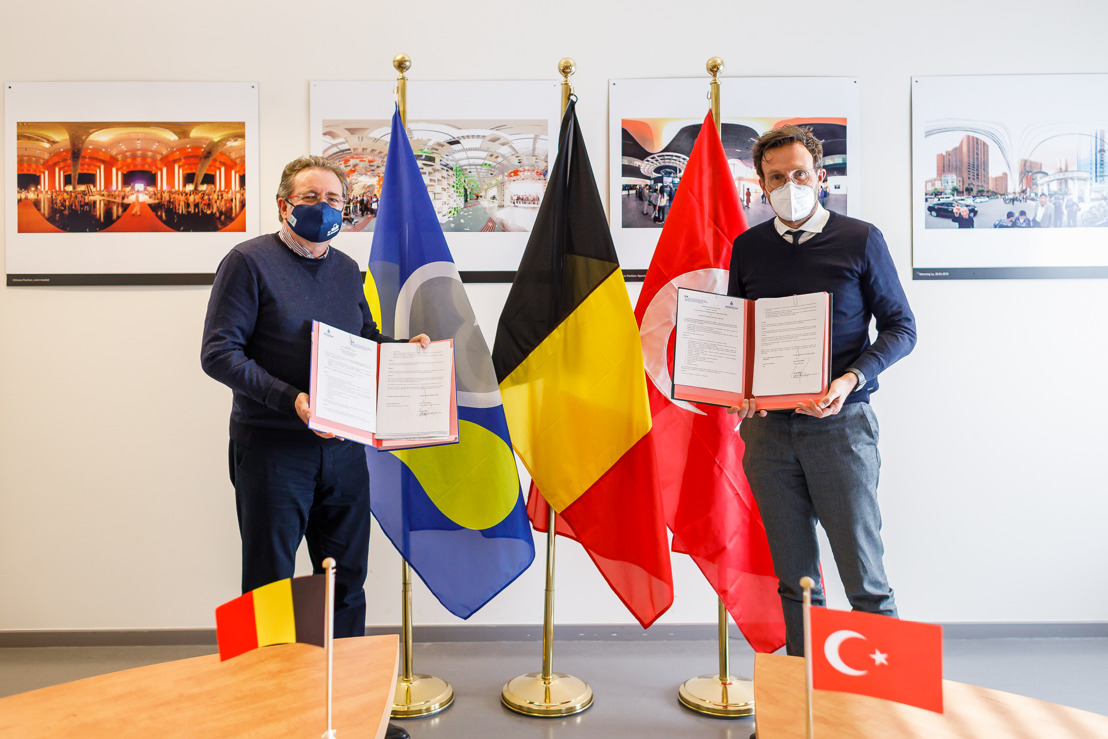 Brussels and Istanbul sign Memorandum of Understanding
With this agreement, both cities express their ambition to work together on common metropolitan challenges.
Thursday, February 11, 2021 — Brussels Minister-President Rudi Vervoort and Secretary of State for International Relations Pascal Smet have signed a memorandum of understanding with their colleagues of the metropolitan area of Istanbul. In the coming two years, both cities will examine how they can increase their cooperation in various policy fields.
It is a pleasure to sign this cooperation agreement with the Mayor of Istanbul. In the past, our two cities already created close ties by cooperating on heritage and mobility. With this agreement, we will investigate together how we can further build a sustainable and inclusive city of the future, with themes such as smart cities, urban development and equal opportunities. I strongly believe that cities worldwide should cooperate to address metropolitan challenges." Rudi Vervoort
"Metropolitan cities around the world need to cooperate and share knowledge even more. This will improve the life quality of all inhabitants. The pandemic has made the challenges for cities even greater. That is why the Brussels Region is actively pursuing qualitative partnerships with other cities around the world. Brussels and Istanbul both have a rich past and can therefore share many best practices in the field of historic preservation. The cities are also emotionally linked through the large and very active diaspora community in Brussels." Pascal Smet.
The Memorandum of Understanding was signed during a digital meeting. Rudi Vervoort and Pascal Smet signed the document in Brussels, while at the same time Ekrem Imamoğlu, the mayor of Istanbul, did the same in the Turkey. Ekrem Imamoğlu is mayor of the city since 2019. He is a member of the People's Party (CHP) and has a very progressive and urban point of view.

With this document, both cities have agreed to explore the possibilities of long-term structural cooperation over the next two years. This approach reflects the Brussels Region's international strategy of thoroughly analysing potential cooperation before making a long-term commitment.
During these two years, Brussels and Istanbul will examine which information can be exchanged, which joint initiatives can be set up and how cooperation can be developed on various specific themes.

It is no coincidence that the memorandum is signed on 11 February, the International Day of Women and Girls in Science, a symbolic day to strengthen the international cooperation on equal opportunities between both cities. In addition, 2021 is an important year for Brussels relations with Istanbul: the economic representation of the Brussels Region in Istanbul celebrates its 20th anniversary.
Themes
Besides equal opportunities, the agreement includes several other themes.
Impressive heritage can be found everywhere in Brussels and Istanbul. The Brussels Region and Istanbul have already shared information on the conservation and restoration of old city walls in the past. Both cities would also like to intensify their cooperation on historic preservation.
Urban development, smart cities and mobility are also a priority on the agenda. In recent years, Brussels is evolving into a human scale city with a focus on high-quality public space and soft mobility, areas in which Istanbul and Brussels have also developed strong ties. In 2005, Brussels signed a cooperation agreement with the Turkish ULASIM, the operator of the local metro and light rail system. STIB opened a representative office in Istanbul in 2008.
Also culture is a priority. Every year, Istanbul hosts more than 4,000 events, including international film, music and theatre festivals and art and design biennales. Moreover, the Turkish diaspora represents an important community in Brussels.
But themes such as trade, public health, culture, environment, tourism, and scientific research will also be examined with the aim of a possible closer cooperation.
You can watch the speeches of Minister-President Rudi Vervoort and Secretary of State for International Relations Pascal Smet in the attached video.