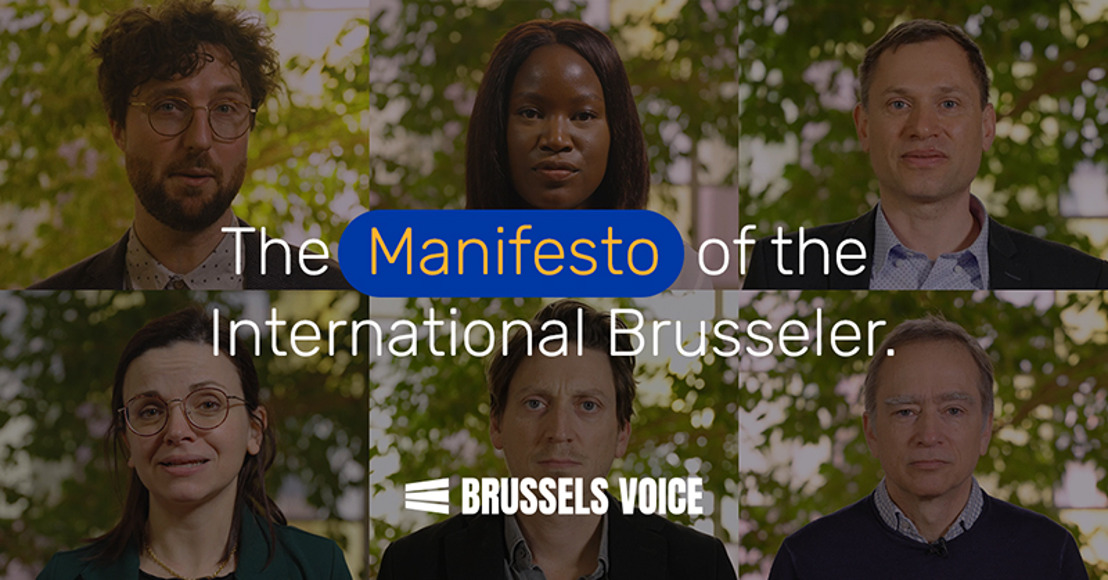 BRUSSELS VOICE '22
The Day of the International Brusseler
Friday, April 29, 2022 — What future does the international community of Brussels imagine for our region? What do elected politicians think of their proposals? And how can we ensure that International Brusselers have a real voice in regional politics?
These were the big questions at Brussels Voice '22, the first ever Day of the International Brusseler. The event took place at the Brussels Parliament yesterday (28 April), gathering Brussels MPs, regional policymakers and International Brusselers in person and online.
Brussels Voice '22 marked the formal handover of the Manifesto of the International Brusseler to the Brussels Parliament and Government. The manifesto was developed by the more than 1300 International Brusselers who participated in the project Live here. Speak, hear. It contains 22 detailed policy proposals on 6 vital topics:
How can we give International Brusselers a meaningful say in regional politics?
How can we make it easier for new arrivals and non-Belgians to interact with public authorities and administration?
How do we make getting around Brussels greener, more efficient and more accessible?
How can we make our streets and parks a welcoming environment for everyone?
How can we make Brussels, and especially the European Quarter, a liveable, affordable and family-friendly place to call home?
How should we manage waste and keep Brussels clean?
Alain Hutchinson, Brussels Commissioner for Europe and International Organisations, celebrated the success of the project and the event. "I was pleased that commissioner.brussels could take the lead in this bold experiment in participative democracy. International Brusselers are a vital part of our economic and social life, and they have developed some fascinating proposals which offer a snapshot of their worries and hopes. Today's event was also a big step. Never before has the regional parliament welcomed non-Belgians and new arrivals in this way. The discussions showed that International Brusselers really care about their home and that they have a lot to offer when we give them a chance to speak up."
Pascal Smet, Brussels State Secretary for European and International Relations, looked to the future. "International Brusselers matter. Giving them a voice is a first step in valuing this important part of the population that is too often ignored in Brussels. It was important to present and discuss the demands of the Manifesto in parliament. In front of elected politicians, because fighting against this democratic aberration is essential for me. It is up to us, as policy makers, to implement their recommendations. Only then we will be able to achieve our ambition to become an international city worthy of the name. We will therefore continue the consultations and make them permanent. One man, one vote. That is our goal. "
Ilaria Maselli, an International Brusseler of Italian origin who spoke at Brussels Voice '22, insisted that her community has a place in regional politics. "Ilaria Maselli, an International Brusseler of Italian origin who spoke at Brussels Voice '22, insisted that her community has a place in regional politics. "My Belgian husband sometimes says I am more a Brusseler than he is, so I was really proud to present my community's ideas to the Parliament today. But this shouldn't just be one-time event. We want our voice to be heard in the democratic process. We live here, we belong here, and this is our home too. We deserve a real voice on the regional policies which we help to finance."
Information for editors
1 in 3 people living in the Brussels-Capital Region has the nationality of another country, but non-Belgians cannot vote in regional elections. Brussels Voice, the platform launched by commissioner.brussels and State Secretary Pascal Smet, is giving International Brusselers these vital members of our community, a say in the policies which impact their daily lives. Through the project Live here. Speak, hear. more than 1300 International Brusselers developed a manifesto with 22 policy proposals for a better Brussels, and this is what was presented to the Brussels Parliament at the event Brussels Voice '22.
You can explore the proposals and download the manifesto on the Brussels Voice website:
brusselsvoice.commissioner.brussels
If you wish to know more or arrange an interview, please send an email or call us: [email protected]
Speakers at Brussels Voice '22
Rachid Madrane, President of the Brussels Parliament
Pascal Smet, Brussels State Secretary for European and International Relations
Alain Hutchinson, Brussels Commissioner for Europe and International Organisations
Members of the Brussels Parliament
Sevim Aktas, Ilaria Maselli & Bryn Watkins, International Brusselers
Rewatch the livestream
Marc Debont Porte-parole, Cabinet du Secrétaire d'État Pascal Smet