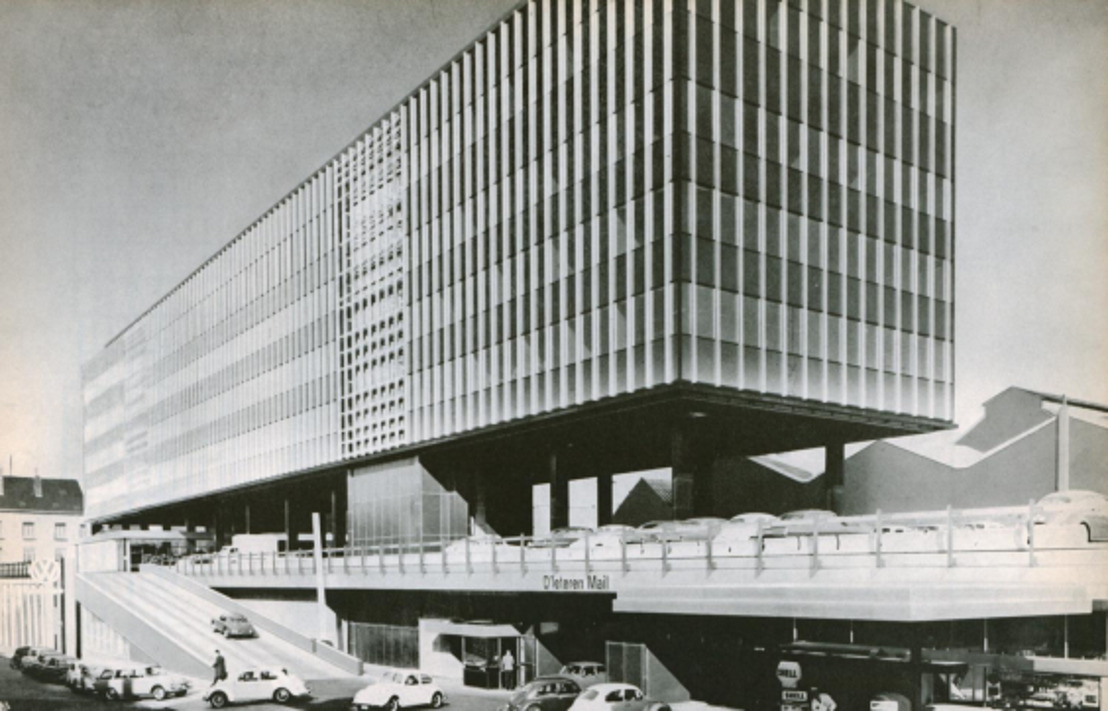 D'Ieteren building in Rue du Mail in Ixelles soon protected
Start works of post-war heritage protection
Tuesday, July 26, 2022 — As the reflection on the redevelopment and renovation of the D'Ieteren building in Rue du Mail in Ixelles has been launched during project meetings, State Secretary for Heritage Pascal Smet aims to set a first benchmark. The government has validated his proposal to start the procedure for the inscription of parts of this emblematic building on the heritage preservation list.
"We commissioned the ULB to establish an inventory of modernist buildings that need protection. But time does not stand still and projects keep arising. Thanks to project meetings, where project leaders and the authorities can discuss the matter, we know that the site will be transformed very soon. In order to save time and draw a clear line, I have asked to prepare the inscription on the preservation list. By launching this procedure, the building and its furniture are already protected and we can move forward. But such a registration protects but does not freeze things. In my view, we should approach this building ambitiously and creatively while respecting its history. " declared Pascal Smet.
History of the building
The complex where the D'Ieteren company is located occupies a large part of the block formed by the Rue du Mail, Rue du Prévôt, Rue de Tenbosch and Rue Américain in Ixelles. It consists of several buildings from different periods, with its most remarkable part located at 50 Rue du Mail and built between 1962 and 1967, based on a design by René Stapels with the assistance of architects Robert Badinet, B. Lefèvre-Feragen, Jean-Louis Lemaître and Jamar.
After this turning point in his career, René Stapels would also design the Royal Belge. In addition to the influence of American architecture, this functional building is also characterised by the combination of car facilities and administrative functions. A large plinth above which the superstructure seems to float emphasises the remarkable aesthetics. A refined finishing - partially preserved - characterises the interior. Stapels obtained the input of engineers from the Verdeyen and Moenaert research office and La Construction Soudée, in this way adding technical value to the construction method.
With its combination of modernity and functionality, the building is typical of post-war architecture for companies.
Its rather rare typology and remarkable architecture add to its uniqueness. Moreover, most of the architecture (facade and structure) and original materials have been preserved.
Governement's decision
The government has decided to open the procedure for the inscription of the entire building, including the furniture that forms an integral part of it, built according to the plans of 1962-1967 by architect René Stapels at 50 Rue du Mail in Ixelles, on the heritage preservation list because of its historical, artistic, aesthetic and technical value.