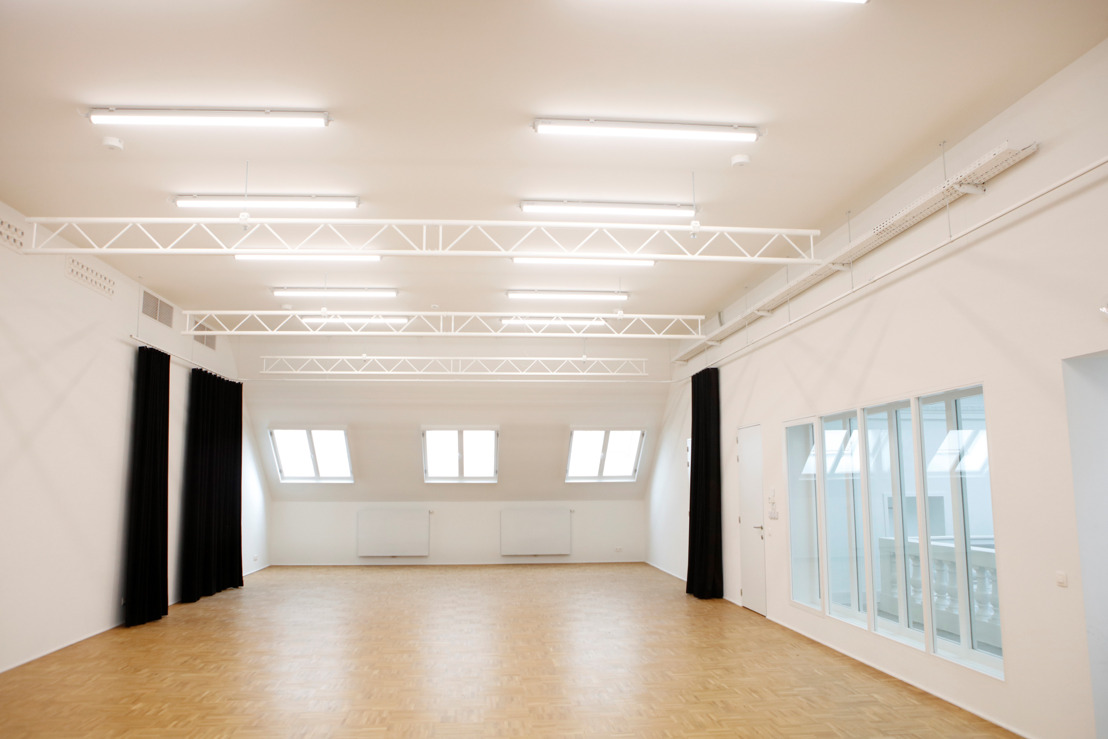 Elzenhof community centre reopens with renewed infrastructure and art workshop "Kunstenwerkplaats" in the attic
Monday, December 20, 2021 — Monday 20 December 2021 - Community centre Elzenhof was home to the first lending service for baby items and the first repair café in Belgium. However, its 3 connected townhouses were in need of better infrastructure. That is why more than 2.2 million euros were invested thanks to a partnership between the Flemish Community Commission VGC, the Flemish Government and the region. Today, Brusselers can use an extra floor in Elzenhof, and 3 extra residencies were made possible.
Elzenhof offers room for all kinds of activities, from drawing classes to dance workshops, from conversation tables to creative activism and a winter garden. Child and family agency "Kind en Gezin", Brussels performance art association "Kunstenwerkplaats" and the lending service for baby items "Babytheek" are among the services located there. The VGC commissioned dmvA Architecten in 2019 to renovate the outdated infrastructure. During the works, the community centre moved to different locations in Ixelles. Since the summer, it has resumed its activities and became a vibrant site again, a meeting point for the entire neighbourhood.
During the renovation, the reception area was placed centrally in the entrance hall. In addition to the winter garden and conservatory, there is now a modern shared kitchen, a garden stand for children and young families, and a large roof terrace that connects to the café. The previously unused attic has also been transformed into an art workshop with plenty of space.
Art in public space
The VGC has purchased the work of artist Edurne Rubio for the Elzenhof heritage. He placed six "time holes" in it, giving insight in the building's hidden walls, floors and ceilings. "Art in the public space is a win-win situation," said Pascal Smet, VGC college member for Culture, Youth, Sport and community centres.
The Elzenhof community centre will be a home for the entire neighbourhood, so it is important that these spaces inspire. At the same time, Kunstenwerkplaats uses the spacious attic to develop all sorts of projects within several disciplines. This is important, since research showed a lack of suitable studio space for artists. Through Plan Atelier - or "studio plan" -, it is more important than ever to create space for artists, and we are focusing on the many talents that are flourishing in our city. In Ixelles, this can be developed in a welcoming environment that supports the Brusselers in all aspects of their creativity," said Pascal Smet.
Open house next level
Elzenhof mainly accommodates artists from the performing arts or with interdisciplinary profiles relevant to Brussels. They receive guidance from Kunstenwerkplaats and, when possible, financial support.
"The renovated Elzenhof community centre has become a piece of art! Literally, but also figuratively. It will be a community centre and a haven for artists and those who enjoy the performing arts. But it also has space and facilities for other assets of community, cultural and neighbourhood life. I am sure that this centre will thrive. Make sure you visit!," said Sven Gatz, Brussels Minister for Dutch-language Education and Multilingualism.

"This is a beautiful, important moment. The renovated buildings of community centre Elzenhof are a good example of how the VGC aims to renovate buildings and public spaces in a qualitative and ecological way. We focus on sustainable management, enhancing the buildings and making optimal use of space," said Elke Van Den Brandt, president of the VGC counsil.
Nelleke Von Der Heide, president of Elzenhof vzw, explains how Elzenhof implements it.
"The community centre is fully committed to experimentation and co-ownership," said Von Der Heide. "We want to let the Brusselers develop their own initiative, and the popularity of the beautiful shared kitchen shows us that the new infrastructure facilitates that. There are also three spaces available for local candidates to work on their own project for a year. The proposals reflect the neighbourhood," said Nelleke Von Der Heide. "For example, the local African community radio station Radio Publik will have its own place."

"With these renovated buildings of community centre Elzenhof, we show once again that we will not let go of Brussels. We continue to invest in cultural infrastructure so that our Flemish artists can continue to develop in Brussels and show themselves to the Brussels and international public," said Minister-President Jan Jambon.

"With the renewed infrastructure, Elzenhof is the ideal meeting and leisure place of the Flemish Community in Ixelles. This centre is known for its hospitality. Everyone is welcome and can connect with each other. Its doors are wide open for meeting people from Ixelles across the generations. Thanks to the renovations, Elzenhof can stay even more in touch with what is really going on in the neighbourhood. It is also a place where parents and their children can feel at home. There is a consultation bureau, there are many any activities for children and young people and a wide range of leisure activities. All this is extremely important for families in the city. That is why I am very happy that we, together with the Flemish Community, are investing almost 1 million euros in this project," said Benjamin Dalle, Flemish Minister for Brussels.
More information on www.gcelzenhof.be.
Pictures © Layla Aerts.