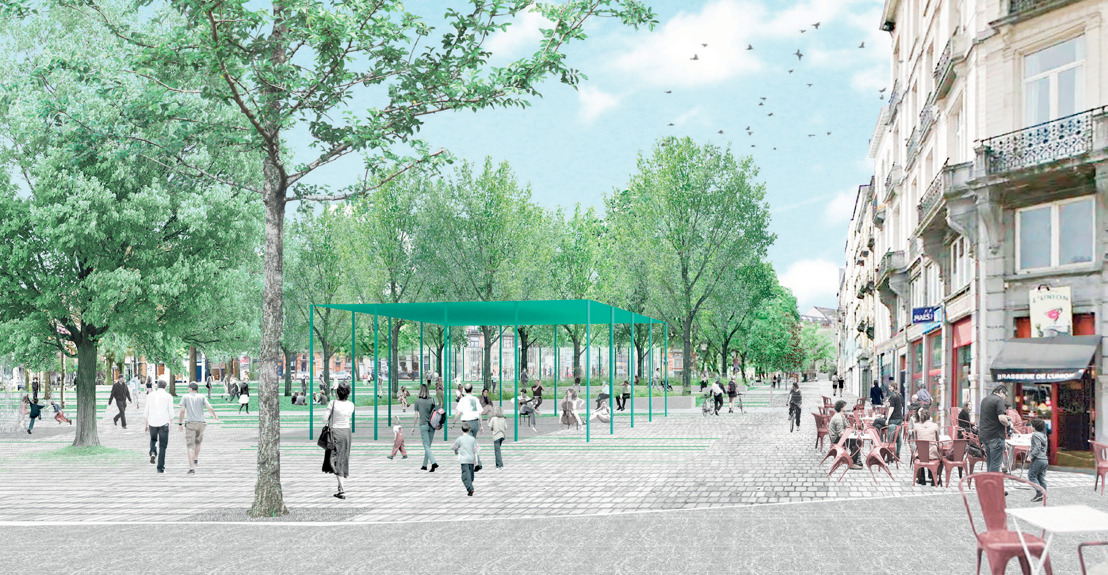 Pascal Smet confirms the delivery of a building permit by urban.brussels for a new multifunctional park in the heart of Saint-Gilles.
After the "Parvis de Saint-Gilles" the square Marie Janson will get a complete make-over.
Thursday, December 17, 2020 — Brussels Secretary of State for Urbanism Pascal Smet has given the green light to transform Place Marie Janson into a multifunctional park.
The project is the showpiece of the "Sustainable District Contract Parvis-Morichar" of alderman Willem Stevens
"We aim for high-quality public space for all Brusselers. The redevelopment of Place Marie Janson is an exemplary project. I would like to thank Willem Stevens for his great work. We will create an enjoyable, beautiful square where people can connect with each other. We will also minimise car traffic, combine various urban functions, soften the soil and plant several trees and bushes," says Pascal Smet.
"I am delighted with the delivery of the permit for this long-awaited redevelopment project of Place Marie-Janson and its neighbouring streets. This high-quality project shows it was well worth the wait. The redevelopment was carried out within the framework of the Parvis-Morichar district contract and was made possible with resources from Beliris. It will provide an extension to the already renovated Parvis as a pedestrian area and will at the same time preserve space for the weekly market, demineralise the square and prepare it for climate change .A great success for a better life quality of both locals and Brusselers!" says Rudi Vervoort, Minister-President of the Brussels-Capital Region.
"This neighbourhood is the heart of Saint-Gilles. The aim of the Sustainable District Contract Parvis-Morichar was to turn it into a beating heart again.
There is no need to introduce the cosy forecourt Parvis and its inviting terraces. Now it is time for the neighbouring Place Marie Janson to undergo a metamorphosis. It will be a beautiful, multifunctional park for both young and old," says Willem Stevens, alderman of District and Urban Renovation Contracts in Saint-Gilles.
"The delivery of the planning permit for the entire redevelopment of Place Marie Janson is an important step towards revitalising the Parvis district. This redevelopment completes a long process to improve life quality in the historic district of Saint-Gilles: we have renovated and created many public housing units, given a boost to the cultural and commercial offer and turned Parvis into a pedestrian area. Neighbourhood residents and visitors will soon be able to enjoy a new green space that invites to live together!" Charles Picqué, mayor of Saint-Gilles.

Today, the Brussels Region has delivered the building permit to the municipality of Saint-Gilles for the redevelopment of Place Marie Janson. This is part of the Sustainable District Contract Parvis-Morichar.
Studio Paolo Vigano, also responsible for Park Spoor Noord and the Theaterplein in Antwerp, and the Brussels firm VVV designed this new public space.
Their project resolutely opts for a very natural space, with a softened soil on many places and more trees. They also took into account the many possible activities on the square.
For example, people will be able to play several sports and a secured bicycle parking will be installed next to the small corner building at Rue de la Victoire. Close to Parvis, a canopy ensures that activities can take place even when it rains.
Furthermore, the weekly market can be organised conveniently on the lower part of the park, in the extension of Parvis, which will be stretched along Rue Jourdan.
Thanks to the combination of urban functions with trees and bushes, Place Marie Janson will feel both like a park and an urban square. This "urban park" will be connected with its counterpart, the stately Parvis de Saint-Gilles.
By substantially restricting car traffic in Rue Jourdan and Rue de Moscou, both streets will become pleasant walking and cycling routes and will become part of park. Furthermore, in Rue de l'Hôtel des Monnaies, at the upper side of the park, cyclists and pedestrians will be able to cross safely to Pierre Paulus Park ("duckling park") thanks to a platform. This creates a soft connection between upper and lower Saint-Gilles (Place Morichar > Paulus park > Place Marie Janson > Parvis).

To conclude, the project offers solutions to adapt the city to climate change. Through infiltration zones, rainwater will be able to percolate into the softened soil. Trees will provide shade and cooling, and grass will replace mineral paving to slow down the city heat during warm periods.
The works will start in 2021 and will take half a year.