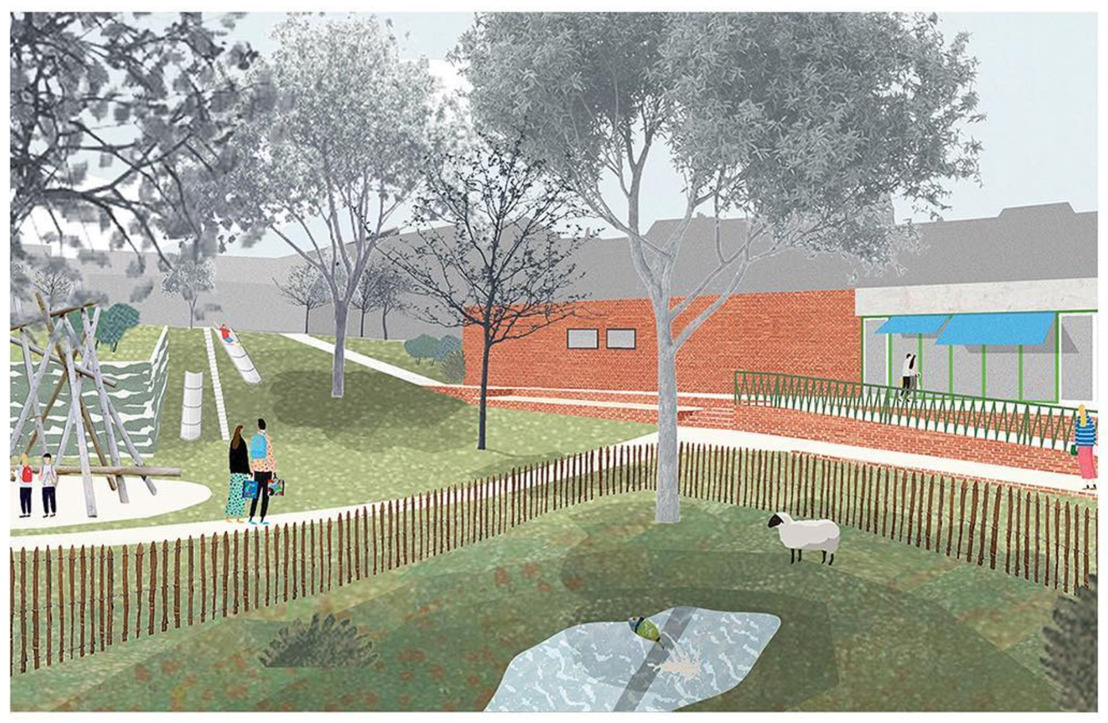 Planning permit for renewed Paulus park and its boulodrome
Protected park gets complete makeover
Monday, May 18, 2020 — The Brussels Region grants a planning permit to the municipality of St-Gilles for the redevelopment of the protected Paulus park, better known as the "Eendjespark" ("duckling park"). The renewal of the park is part of the sustainable district contract "Parvis - Morichar".
Willem Stevens, alderman responsible for Sustainable District Contracts:

"The redevelopment of "duckling park" and the renovation of its boulodrome are now becoming very concrete. We received an urban planning permit and the tender procedure for the works has been launched. The park will become more attractive and there is no doubt that the renovated boulodrome will become a new attraction in St-Gilles."
Pascal Smet, Secretary of State for Urbanism:

"During the corona crisis, we all clearly felt the need for quality public space in the city. And we will continue to respond to this need. After all, our public space no longer has a purely functional purpose, to move around for example, but is becoming the living space of us all. It is a place to relax, play, connect with each other, enjoy,... That's why it is important to design these spaces as well and as attractively as possible. We do that also in our homes. And the city has to become everyone's home."
The entire park, which is protected, will be renovated very thoroughly. The paths in the park will be renovated and new paths will be created to better connect the higher parts of the park with the lower ones. The footpath around the pond will return to its original location.
The Brussels architectural firm Ledroit Pierret Polet Architectes realised the design.
There will be a new wooden playground, in a different place than the existing one. By opting for wood and stainless steel, the playground will be perfectly integrated in its surroundings.
The renovation project also pays a lot of attention to soil and water management. For example, the water collected in the drains will be filtered and transported to the pond through an underground pipe.
The eye-catcher of the new park will be the boulodrome with its new terrace overlooking the park. Brusselers will be able to play petanque as much as they want and to enjoy a snack and a drink.
The building itself will be completely renovated, with a lot of attention for the authentic elements of the building. The accessibility of the building and its terrace will also receive a great deal of attention.
Reine Nkiambote Woordvoerster, Kabinet Pascal Smet